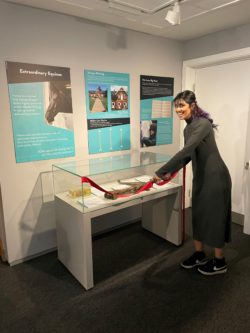 The National Horseracing Museum was most fortunate to have had the wonderful and vivacious Coral Pritchard-Gordon as a supporter for many years. In acknowledgement of her dedication to the museum and the wider community, the trustees introduced a Graduate Scheme in her name. This has been generously sponsored by Sir Evelyn de Rothschild through the Eranda Rothschild Foundation.
The scheme gives recent graduates a 12-month placement based at the museum and particularly seeks to help individuals who may otherwise struggle to establish a career in the arts, culture and heritage sector. It aims to help the participant develop key skills across different areas that are vital to the museum such as running a heritage attraction, securing an income, holding collections in trust and working with different audiences.
Mariam Hussain completed the scheme in October 2021 having delivered two projects: an exhibition 'Extraordinary Equines' in the Trainer's House science gallery, and 'Chai and Rusk' events for local Asian communities.
NHRM has benefitted from Mariam's expertise in zoology stemming from her undergraduate studies in Marine Biology. Her scientific rigour underpins a highly informative and fun display in 'Extraordinary Equines'. We anticipate it will be popular with, and useful for, schools' groups looking to encourage self-directed learning and interest in STEM subjects.
Her 'Chai and Rusk' events have enabled NHRM to invite South East Asian communities living in Newmarket, particularly women, to come into the museum to see what it has to offer. Her work has showed local South East Asian communities that NHRM holds collections that they consider relevant and interesting.
We are so proud of all that Mariam achieved in her 12-month traineeship and thrilled that she has a new position at the Science Museum in London. We wish her all the very best for what we are sure will be an incredibly bright future!
We're delighted to welcome Rachel Whatley to the scheme. Rachel recently graduated with distinction from the University of Leicester's Masters in Museum Studies program and she's looking forward to tackling all the new experiences and challenges the traineeship brings.