In January 2021 we were delighted to welcome two new trainees to NHRM as part of the Heritage Lottery Fund's Skills for the Future program.
The year-long placement is designed to develop a wide range of skills including research, documentation, conservation and interpretation, together with the practical skills required to manage heritage events and to plan, develop and deliver displays.
Hazel Courtley, Community Engagement Manager, said of the trainees: "It has been a pleasure to work with Grace and Rebecca over the past year and to help them grow professionally. We're proud of everything they've achieved and we wish them all the very best for their promising futures."
We asked Grace and Rebecca what they've learned over the past year…
Grace Fallon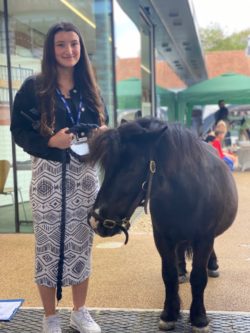 Have you enjoyed your time at the museum?
I have loved my time at the museum and I have enjoyed working in the different departments with lots of different people.
What have you learned?
I have learnt many new transferable skills from the traineeship, these include; how to plan and run an event, how to catalogue objects, how to handle and care for objects and how to operate the tills in the shop. I have also taken part in various training in my time here which includes learning about equality and diversity, museum ethics, photography, customer service and using excel.
What has been your favourite project to work on?
My favourite thing I have done is working on the Party at the Palace event and the Halloween events. These two events are the first ones I have worked on from start to finish so it was a good experience to take part in and it was good fun to see all the hard work come to life at the end of it.
What's next?
I am currently looking to move onto a new job. The traineeship has shown me that I enjoy working in a museum but I am more interested in the events side of things so that is what I am focused on looking at.

Rebecca Wiseman
What were you doing before you started your traineeship at the museum? 
Before I started the traineeship, I was working in a betting shop. I decided to apply for the traineeship because I have a keen interest in horse racing and, having been to the museum before as a visitor, knew that it was somewhere that I would love to work.
What has been your favourite project you've worked on?
My favourite project has been organising 'Fun Palaces', which I ran with my fellow trainee, Grace, on October 2nd as our community event. It was challenging, but rewarding when we saw families enjoying our event.
Have you enjoyed your time at the museum? 
I have really enjoyed my time here and I've enjoyed the training days where we met up with other trainees from Stowmarket, Ipswich, Colchester and Leiston. I've thoroughly enjoyed having the opportunity to work with the ex-racehorses on the Rothschild Yard once a week and building my confidence by carrying out some 'Behind the scenes' tours! I've met some good people along the way, and I wish it didn't have to come to an end but I'm now looking to the future!