It's back to Cheltenham races this weekend for their November meeting.  In our latest blog by The Paddock and The Pavilion we feature a Q and A with former jockey Richard Linley who rode Half Free to success in the Mackeson Gold Cup, now the Paddy Power Gold Cup in 1984 and 1985.
Half Free is one of only five horses to have won the Cheltenham handicap on two occasions. The other horses to do the double being: Fortria (1960 & 1962), Gay Trip 1969 & 1971), Bradbury Star (1993 & 1994) & Cyfor Malta (1998 & 2002).
Through a series of questions with former jockey Richard Linley we look back at the career of one of those dual winners, Half Free, a Cheltenham specialist, who Richard rode to successive victories in 1984 and 1985.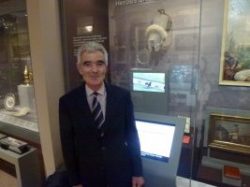 Half Free (1976) was originally trained by Eddie Harty in Ireland before moving to Fred Winter's Uplands yard after the 1980/81 season. He soon impressed as a hurdler winning novice races at Ascot (twice) and Cheltenham in his four runs and was sent to post as the 11/4 favourite in the 1982 Supreme Novices Hurdle at the Cheltenham Festival. Although well down the field on that occasion, Prestbury Park later became like a second home to the small bay gelding.
In his first two years over the bigger obstacles Half Free won five races with Richard riding him for the first time in November 1982.
By that time Richard was the retained jockey for Sheikh Ali Abu Khamsin a very successful Arab owner who's red and black chevron silks dominated the National Hunt scene of the mid 1980's. The Sheikh's Gaye Brief ridden by Richard won the 1983 Champion Hurdle.
How did Half Free adjust to chasing?
He took to chasing very well, athletic with a high cruising speed.
What did you think of Half Free's chances in the 1984 Mackeson Gold Cup?
I though he had a very good chance considering his early season victories at Cheltenham but there were a few down the bottom of the handicap that were likely to give us a difficult time.
At breakfast after riding out at Mercy Rimell's on the Saturday/race day we both decided that Acarine (10st) was the big threat.
After his two October wins at Cheltenham Half Free (5/2 favourite) headed the weights for the 25th running of the race with 11st 4Ib. Second favourite in the ten runner field was the David Nicholson and Peter Scudamore team runner Voice of Progress (100/30) a highly regarded young chaser, who had been 3rd in the 1983 Arkle Chase. The future Grand National winner Maori Venture was a 16/1 outsider on that early November afternoon.
How did the race work out for you?
I was delighted to see Acarine set sail for home at the top of the hill thinking it was going to play into my hands, after all it is over half a mile from there to the winning post!
He jumped fine and I remember Acarine's backside disappearing down the hill. All I was trying to do with his weight was conserve as much energy for the final couple of furlongs up the hill.
Foggy Buoy and Acarine had set a fast pace before Acarine ridden by Paul Croucher took the lead with three fences to go. Half Free, who had led the chasing pack challenged the leader as they turned for home and got up to win by a length and a half.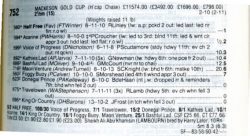 In-between his second Mackeson win Half Free ran in the 1985 Cheltenham Gold Cup and led with two fences to go but eventually came 5th.
Was 3m 2f too far for this Cheltenham specialist?
Sadly, the Cheltenham Gold Cup was too far for him although he would have given a better account of himself if Drumadowney had given him a lead for longer in the last half mile.
What did you think of his chances of a repeat win in 1985?
Looking at the opposition he had as good a chance as any of the runners and he was probably a seven pound better horse around Cheltenham than anywhere else.
The ten runners featured two previous winners of the race: Henry Kissinger (1981) and Pounentes (1983) along with the promising Irish seven year old Buck House.  The latter trained by Mouse Morris had been 2nd in the Arkle Challenge Trophy at the 1985 Festival headed the betting at 5/2 with Half Free at 9/2.
How did the race work out and how did it compare to the previous year?
Not dissimilar to 1984 as Newlife Connection trained by Arthur Stephenson gave us a good lead to the last as Acarine had done the year before.
The light weighted Newlife Connection had taken the lead three from home but despite Half Free carrying 22Ibs more Richard got up to win by a head in a driving finish with Simon Sherwood.
What tactics did Fred Winter ask you to take for the two Mackeson wins?
Fred never gave me any instructions and the little horse had a good enough cruising speed to sit where you wanted to during the race, and he very much ran his own race around Cheltenham.
Why didn't you ride him in the 1986 Mackeson Gold Cup when he came 2nd?
I was off games from November 1985 to the start of 1987 through injury; it certainly wasn't a case of being 'jocked off' by Scu!
Why did he like Cheltenham so much?
He was an extraordinary horse around Cheltenham, and I don't think I am able to put my finger on why, but he was definitely seven pounds better there than anywhere else.
Half Free won eight races at Cheltenham, three of them at the Festival, the 1984 Mildmay of Flete Chase, 1986 Cathcart Chase and 1987 Cathcart Chase.