On Thursday 1st June 2023, Her Majesty The Queen unveiled The Belvoir Huntsman, John Holliday, on 'Edward' in Belvoir Woods by Charles Church.  As Duchess of Cornwall, Her Majesty was Patron of the British Sporting Art Trust (BSAT) who commissioned this substantial 6' x 7' painting, which hangs in the BSAT Packard Galleries in Palace House within the National Horseracing Museum (NHRM), Newmarket.
Works being commissioned by the BSAT featured in Camilla's Country Life in July 2022, the ITV television programme which accompanied Her Majesty's Guest Editorship of Country Life last year.  This is Her Majesty's first visit to both the BSAT Packard Galleries in Palace House and the National Horseracing Museum.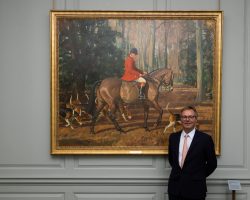 The artist: Charles Church
Charles Church is an internationally-renowned painter of horses, landscapes and country life.  Born in 1970, he was brought up on the Northumbrian coast where he developed a keen eye for the horse from an early age and soon became a recognized talent as an equestrian artist.  In his mid-twenties he was apprenticed to the American artist Charles H Cecil in Florence, learning to paint by "sight-size", a technique used by Masters like Sir Joshua Reynolds and Velasquez dating back to at least the 17th century.
Charles' work, therefore, displays an unrivalled confidence and mastery of draughtsmanship, colour and tone with a lyrical purity of style.  Studying his subjects from life, en plein air, his paintings have a heightened sense of light and a natural flow about them that is coupled with a truth and spontaneity.   
"Pastures New", his latest exhibition on Duke Street, was a critically-acclaimed sell-out.  Arguably, Charles Church is the Alfred Munnings of our time.
Amongst other racing commissions, Charles has painted over thirty-seven Group or Grade 1 winners, including Frankel, Arc de Triomphe winners Hurricane Run, Dylan Thomas and HH the Aga Khan's Zarkava; the World Champion Goldikova; US Champion, Mineshaft; the Australian Champion Sire, Fastnet Rock; Grand National Winner Mr Frisk; Cheltenham Gold Cup Winners, Synchronised and Master Oats plus Pour Moi and Authorized, winners of the Epsom Derby.
 The subject of the painting: John Holliday
John Holliday was Huntsman to the Belvoir Hounds from 2010 to 2022.  He began his working life in Cumberland before he became whipper-in for both the Belvoir and then the Quorn.  He went on to be the Huntsman to the Ledbury in 1995 before moving back to the Belvoir in 2010.  He retired in 2022.
Painting John Holliday: The process – by Charles Church
"In 2015 I painted John Holliday on a different horse with a view of Belvoir Castle behind, so I had spent a few days both following him hunting and having him sit for me on that occasion.  He had posed with hounds in various locations including the mature beech and yew woods there.  The dramatic winter light in the woods appealed to me for this much bigger picture. 
 I asked John to pose again for me, however due to Covid lockdowns I didn't get to see him until early April, after the hunting season had ended.  The horse's summer coat had started to come through and he had begun to 'let down' a little (as had John!) which made for a bit of guesswork in the final painting.  Furthermore, the woods in early April were also showing signs of spring.  I painted a study of them from life of an area which still looked wintery, and for the remainder of the background spent time near my home the following winter, painting in Bryanston woods.  They have almost identical trees of age and species as Belvoir.
 I had never worked on quite this scale before so painted a number of smaller composition studies before I nervously made a start.  However in the end I found a lot of the composite parts of the painting changed during the process; hounds being added and taken out and large changes to the background mainly.  I feel in the end this organic process made for a better picture than if I had stuck rigidly to my initial composition."
The portrait is now available to view in Palace House which is part of the normal admission price to visit the National Horseracing Museum. Click here to purchase tickets.