The late Lester Piggott rode five winners of the 2000 Guineas at Newmarket's Rowley Mile across five decades between 1957 and 1992.  His winning horses featured three future Derby winners, a Champion miler and the horse who gave him his 30th and final English Classic winner.
As we build up to this weekend's Guineas Festival at Newmarket, Stephen Wallis of The Paddock and The Pavilion  looks back at Lester's nap hand of 2000 Guineas wins in his blog first published in 2018. Thanks to Lester's son Jamie, he was at the time able to get direct quotes from the legendary jockey about each of his winning horses.
Lester's connection with the Newmarket classic began in 1951 as a 15 year old apprentice when he rode the unplaced Manhattan for trainer Ken Cundell.  Six years later he was in the winner's enclosure on Crepello.
Crepello – "A very good horse that couldn't be trained properly due to leg conformation issues.  We had to be careful with the colt and therefore he only ran in the Guineas and Derby at three, said Lester."
Although Crepello (7/2) only won by half a length (ahead of Quorum), his trainer Noel Murless said later "If Lester had let him down it could so easily have been ten lengths".  It was Lester's 2nd Classic winner; his first had come three years earlier when Never Say Die had won the Derby.
Quorum sired three times Grand National winner Red Rum in 1965.
By the time of his next success in 1968, on the Irish horse Sir Ivor, Lester was Champion jockey, a title he had won for the past four years, and he was now riding freelance having ended his stable connection with Murless.
He had no formal contract with the Master of Ballydoyle, Vincent O'Brien, but an understanding to ride his better horses outside Ireland and he was asked to ride Sir Ivor in the Grand Criterium (now The Prix Jean-Luc Lagardère) at Longchamp in October 1967.  In testing ground he won France's premier two year old race by three lengths.
After spending January to March in Pisa, Italy, Sir Ivor returned to win the Ascot 2000 Guineas trial in April and Lester teamed up with the 11/8 favourite in the 2000 Guineas.
Sir Ivor – "He was the best of the five because of what he managed to do in his career afterwards.  In the race he was up against the unbeaten Petingo, who finished second, said Lester."
Sir Ivor won the Derby, Champion Stakes and Washington International Stakes.
Petingo, trained by Sam Armstrong, Lester's father-in-law won the 1968 St James's Palace Stakes and Sussex Stakes ridden by Lester.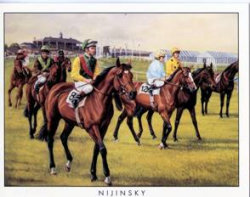 Two years later the team of Lester and Vincent O'Brien were back at Newmarket with another equine superstar, Nijinsky, a son of the leading stallion Northern Dancer.  Like Sir Ivor, Lester only rode the fiery Nijinsky once as a two year old, when the colt crossed the Irish Sea to win the Dewhurst Stakes at Newmarket.
The bookies were clearly frightened by Nijinsky who was backed down to 4/7 on Guineas day.  The next horse in the betting was Tamil at 13/1.  The Sporting Life's headline on the 29th April 1970, 'who's going to be second to Nijinsky' backed up the view of the punters.
Nijinsky – "What can you say! He won easily over the competition since the better horses in the race were sprinters, said Lester."
Nijinsky won the 2000 Guineas, two and half lengths clear of Yellow God.  He went on to win the English Triple Crown in 1970.
Lester had to wait another fifteen years for his next success in the 2000 Guineas when he rode Shadeed, a son of his last winner in the race, Nijinsky.
Shadeed – "He only just beat Bairn (by a head). Shadeed was a spare ride because Walter Swinburn had been suspended.  He turned out to be a very talented horse, said Lester."
Later in 1985 Shadeed won the Queen Elizabeth II Stakes at Ascot in September and finished 3rd in the Breeders' Cup Mile.
Lester's final triumph in the Guineas in 1992 was without doubt the most emotional.  Riding Rodrigo De Triano in the famous emerald green and royal blue silks of Robert Sangster, Lester now 56 was on the comeback trail having retired at the end of the 1985 season and not returned to action until late 1990.
Rodrigo De Triano – "That was a lucky ride.  He was a horse that you had to wait with and come from a long way back. That's how he ran his best races.  He was nearly last for a long way but was able to use his impressive turn of foot.  He came into the dip very easily in order to win comfortably, said Lester."
Rodrigo De Triano won the 1992 Irish 2000 Guineas, International Stakes and the Champion Stakes.
 Lester's final ride in the 2000 Guineas was on board the unplaced Suplizi for Luca Cumani on Saturday 30 April 1994.  From a boy to a grandfather of the 1990's Lester had mastered the unique challenges of the Rowley Mile on 2000 Guineas Day with five winners in five decades.