Today the Cotswold Chase is taking place at Sandown Park Racecourse after being rescheduled due to the Cheltenham Festival Trials Day being abandoned. In 1981, Little Owl trained by Peter Easterby won the Cotswold Chase, then known as the Tote Double Chase, before winning the Cheltenham Gold Cup.
There's an age-old saying that your Grandmother may have told you, which is "never look a gift-horse in the mouth". There can be no greater gift-horse than Little Owl, as he was left in the will of his owner Mrs Gundry, to her nephews Robin and Jim Wilson. This must have seemed like a gift from Heaven to Jim Wilson, as he was also an accomplished amateur jockey, indeed he had beaten Little Owl into second place in the 1979 Coral Golden Hurdle Final (now Pertemps) on that Festival perennial Willie Wumpkins.
Foaled in 1974, his sire was the 1961 Triumph Hurdle winner Cantab (who also sired the 1987 Cheltenham Gold Cup winner The Thinker), whilst his dam was Black Spangle a daughter of Black Tarquin. Little Owl's first race was in a juvenile hurdle at Wetherby and he gave instant statement as to how good he would be, for he won by 8 lengths. He was trained throughout his career by Peter Easterby.
It was always hoped that whatever he did over hurdles it would only be a precursor to his chasing career and in this he would not disappoint. He won his first three chases including Ascot's Reynoldstown Chase, which meant he went to Cheltenham a well fancied 9/4 chance for the Sun Alliance Chase, only to badly hampered and fall with a circuit to go.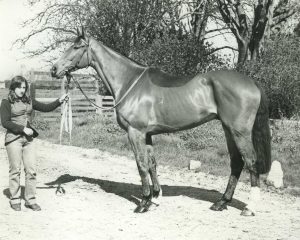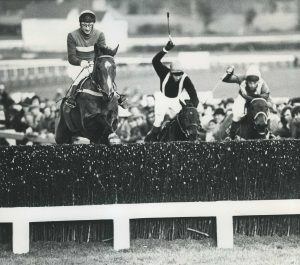 Little Owl (left) jumping the final fence at the 1981 Cheltenham Gold Cup. Silver Buck (centre) and Night Nurse (right)
For the 1980-81 season, Little Owl didn't put in an appearance until Doncaster's pre-Christmas meeting, where he ran out an easy 20 length winner, he started odds-on in this race as he did in his next three, all of which he won, as expected. The second of those victories would be at what is now Cheltenham's Festival Trials meeting in the Tote Double Chase, where he easily saw-off Lesley Ann. The mare, Lesley Ann franked the form six weeks later by winning the Sun Alliance Chase at the Festival. Run in thick fog, the meeting didn't then have the same gravitas that it does now, all the same though, Little Owl laid down a gauntlet to the opposition that come March and the Gold Cup he would be something to contend with.
A week later he ran in Haydock's Timeform Chase, where he came up against a really good horse in Fairy King and a great one in Wayward Lad (although he was a novice at the time) and Little Owl easily put them to the sword.
The 1981 running of the Cheltenham Gold Cup had strength in depth, as there was Midnight Court the 1978 winner, Jack Of Trumps, twice runner-up in the King George, Diamond Edge and the moral winner of the 1980 running Tied Cottage. Favourite was the dual King George winner Silver Buck. Joint second favourites at 6/1 were Little Owl and his stable-mate the dual Champion Hurdler Night Nurse. Rated by Timeform as the greatest ever hurdler, he was attempting to do what no Champion Hurdler had ever done before and that is to win the Cheltenham Gold Cup.
As expected, once the tapes went up the 13 year old Tied Cottage went straight to the front and ran his race the only way he knew how, to make every post a winning one, only to depart the race at the 6th fence. With a circuit to go the two Easterby horses were sat second and third behind Diamond Edge. Six fences out Night Nurse took up the running, closely followed by Little Owl and Silver Buck and it became clear that the Gold Cup was heading to Yorkshire. At the last Silver Buck's stamina ebbed away and Little Owl was easily able to fend off his stable-mate by a length and a half. This win contributed towards Jim Wilson being the leading jockey at the festival, the last amateur to do so.
Like many a young horse who wins the Gold Cup in impressive fashion, there's always comparisons to the peerless Arkle and Little Owl was no different, as he was only seven. However, illness and injury would intervene, a gradual decline would ensue, with the one shining light being that he defeated the subsequent Cheltenham Gold Cup winner Bregawn; this though would only be a brief respite. Little Owl's last two races were in hunter chases and sadly he would never recover the glory days of his Gold Cup win.
Photos courtesy of Timeform (posed shot), George Selwyn (action shot) and Eye Imagery