Palace House, the flagship of the British Sporting Arts Trust (BSAT) at National Horseracing Museum, welcomes a new exhibition to its top floor with a re-hung display of Sir Alfred Munnings along with paintings by John Skeaping.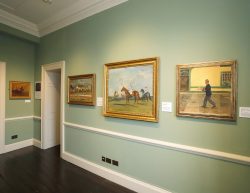 There are now four galleries dedicated to twentieth century sporting art. The largest gallery gives space to the BSAT collection of paintings by Sir Alfred Munnings which with the addition of loans from the Munnings Art Museum and private collections, gives an introduction to the artist's work. The display also reflects on Munnings' love of horseracing and Newmarket. Another gallery focuses on images of twentieth century country pursuits and includes works by Lionel Edwards, Cecil Aldin and a new acquisition by Gilbert Holliday. The final room showcases the BSAT rarely seen collection of John Skeaping drawings and pastels. Skeaping's sculpture can also be found across the Museum site and a number of locations within Newmarket.
John Rattenbury Skeaping (1901-1980) in Newmarket
In addition to being renowned as a painter, along with his wife Barbara Hepworth and Henry Moore, Skeaping was a leading sculpture of the Modern British Art movement which developed in Britain in the 1920s. As their work moved towards abstraction he specialized in depicting horses and animals and found ready patronage in the racing industry.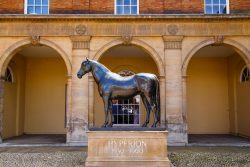 Three important large equestrian bronzes by Skeaping are in Newmarket. Hyperion was commissioned by his owner, the 18th Earl of Derby, to stand outside the Jockey Club Rooms on the town's High Street. Mill Reef (1972) is on view at the National Stud where he retired and is buried and Brigadier Gerard gazes out over the racecourse.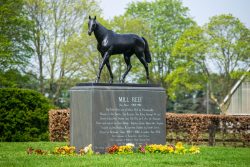 Mill Reef was bred at Paul Mellon's Rokeby Stables in Virginia and was sent as a yearling in December 1969 to Ian Balding, Mellon's English trainer, at Kingsclere. He was one of the exceptional racehorses of the 20th century, winning the Derby, the Eclipse Stakes, the King George VI and Queen Elizabeth Stakes and the Arc de Triomphe in his three-year old season. These drawings were preparatory works for the half life size sculpture at the National Stud in Newmarket. Such was the popularity of the horse they were reproduced as prints.
Skeaping described the horse as: "A charming character and full of grace Mill Reef walked like a ballet dancer and when he turned on the speed he fitted the description of the greyhound mentioned in The Book of Proverbs as 'he who swims over the earth'."
His detailed knowledge of horse anatomy and character distinguishes him as one of the most important equestrian artists of the 20th century. So do come and view his work in Palace House as well as in Newmarket.
Tickets to visit the National Horseracing Museum, which includes Palace House, may be purchased online or on the day.