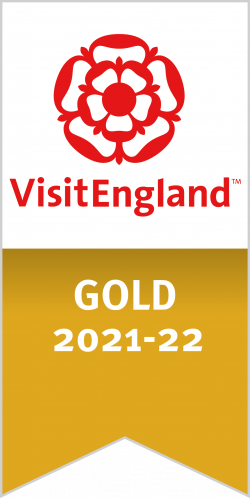 NHRM awarded VisitEngland Gold Accolade again!
The National Horseracing Museum is delighted to announce that we have been awarded the VisitEngland Gold Accolade for the second consecutive year!
We are one of just four venues in the East of England to be awarded Gold status, and one of 30 in the whole of the country. The 2021-22 Visitor Attraction Accolades were awarded to 97 attractions in total, and were designed to highlight the quality and diversity of visitor experiences on offer across England. To see the full list of attractions to receive VisitEngland's 2021-22 Visitor Attraction Accolades, click here.
Using a scores-based system referred to as the annual VisitEngland Visitor Attraction Quality Scheme assessments, specific attractions were ranked in a number of different categories, including Welcome, Best Told Story, Quality Food & Drink, Hidden Gem and Gold for overall winners.
This second consecutive Gold Award for the National Horseracing Museum is testament to the hard work of the museum team, including the staff in the Tack Room restaurant and our on-site Bakery, our behind-the-scenes team, visitor services, shop and practical gallery teams, and of course our army of dedicated and wonderful volunteers. Each and every one of our supporters, team members and staff are key to the success of the museum and have all contributed towards this fantastic award and should be very proud of this achievement.
Speaking about the latest assessment results, VisitEngland's Director Andrew Stokes said:
"It's so exciting to see our brilliant attractions providing outstanding experiences for visitors and to recognise and showcase the variety and quality across the country. England has unmissable visitor attractions and experiences that deliver world-class customer service. They also provide the warmest of welcomes and unforgettable storytelling that connects the whole experience, including retail and food and drink offers that exceed expectations."
Running since 2014, the annual accolades are available to VisitEngland's Visitor Attraction Quality Scheme participants across a wide range of tourism experiences in England from museums and galleries, farm attractions, historic houses and gardens to churches, cathedrals and country parks.
To find out more about the VisitEngland Visitor Attraction Quality Scheme click here.
About the National Horseracing Museum
The National Horseracing Museum is a 5-acre site in the heart of Newmarket. It comprises three complementary attractions; National Horseracing Museum in the Trainer's House and King's Yard Galleries, the Packard Galleries of British Sporting Art in Palace House, and a chance to meet former racehorses in the flagship home of Retraining of Racehorses.
Using the latest interactive and audio-visual displays you can find out about the history of horseracing, plus meet friendly retired racehorses. You'll also be able to discover what it feels like to ride a racehorse with our famous equine simulator, watch the sparks fly as a farrier works in the forge and enjoy some of the country's best examples of sporting art.
Why not make a day of it and have lunch in The Tack Room restaurant or enjoy a picnic from The Bakery whilst you're here?