The National Horseracing Museum is proud to join The Wild Escape, the largest ever collaboration between UK museums.
The Wild Escape – a major new project uniting hundreds of museums with schools with families to find nature in museums – launched on January 24th 2023.
Led by national art charity Art Fund and with support from Arts Council England, hundreds of museums, galleries and historic houses are coming together for the largest ever collaboration between UK museums.
Taking place from January to July 2023, The Wild Escape invites children to find a favourite animal in their local museum and create an artwork imagining its journey to a natural habitat. The pictures and stories children create will be brought together in a collective work of art that imagines a better future for the wildlife on our doorstep, launched online and in museums on Earth Day 2023.
As part of The Wild Escape, the National Horseracing Museum is providing a free learning programme for schools exploring biodiversity, planting wild flowers, working with artist Hilary Cox Condron and holding an exhibition of children's artwork on Saturday 22 April for Earth Day.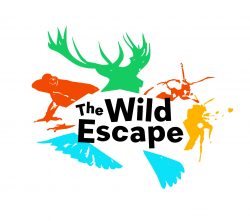 The Wild Escape is an opportunity to join the urgent conversation about climate crisis and biodiversity loss and look for nature positive solutions, in partnership with leading environmental charities the RSPB and WWF and cultural organisations National Trust and English Heritage.
The Wild Escape is inspired by Wild Isles, a landmark BBC series exploring the flora and fauna of the UK.
Jenny Waldman, Director, Art Fund, said: "I'm thrilled that The National Horseracing Museum is joining hundreds of organisations from the Outer Hebrides to Folkestone to connect thousands of children with the natural world through the UK's truly great museums. Thanks to the invaluable support of Arts Council England, the Wild Escape will empower families and children across the UK to visit and discover our wonderful museums, whilst taking positive action to picture a better future for our wildlife."
Speaking on behalf of the National Horseracing Museum, Sarah Coleman, Creative Programme Manager added: "Thanks to funding from the Art Fund and SHARE Museums East we are delighted to be bringing a free learning programme to our local primary schools, including All Saints Primary, Ditton Lodge and Fairstead House and the opportunity to work with an artist. We can't wait to get started planting wild flowers and enhancing the biodiversity of our site and hosting an exhibition of children's artwork for Earth Day on Saturday 22 April."
The Wild Escape initiative, an exciting major creative project for museums and schools inspired by the wildlife found in museum and gallery collections, is led by Art Fund, and supported using public funding by the National Lottery through Arts Council England.

For more information about The Wild Escape click here.
About the National Horseracing Museum
The National Horseracing Museum is a 5-acre site in the heart of Newmarket. It comprises three complementary attractions; National Horseracing Museum in the Trainer's House and King's Yard Galleries, the Packard Galleries of British Sporting Art in Palace House, and a chance to meet former racehorses in the flagship home of Retraining of Racehorses.
Using the latest interactive and audio-visual displays you can find out about the history of horseracing, plus meet friendly retired racehorses. You'll also be able to discover what it feels like to ride a racehorse with our famous equine simulator, watch the sparks fly as a farrier works in the forge and enjoy some of the country's best examples of sporting art.
Why not make a day of it and have lunch in The Tack Room restaurant or enjoy a picnic from The Bakery whilst you're here?
For more information about what's on at the National Horseracing Museum, click here.