Sporting Talk: The forgotten history of everyday speech
9 December 2020 – 30 April 2021
We use sporting phrases every day without realising where they come from. There are some that are obvious, like 'the ball's in your court' but there are others whose origins are not so clear. Spring 2021 sees the launch of our brand new exhibition 'Sporting Talk' which will be exploring more of these phrases and sayings that we use in everyday speech.
Admission to the Sporting Talk exhibition is included in general admission, giving you access to all areas including the National Horseracing Museum, Palace House, and the Rothschild Yard. Don't forget to join our behind the scenes tours at 11 am and 2:30 pm
You can upgrade your pass to an Annual Pass for free. The Annual Ticket will be dated from the day of your first visit to the Horse Racing Museum and will be valid for 12 months from that date.
Please bring the confirmation email with you on your visit to redeem your ticket. Please note; you are not sent a ticket by post.
Tickets are non-transferable and Terms and Conditions apply.
Students and Local Residents must bring proof of ID
Ticket sales are currently unavailable…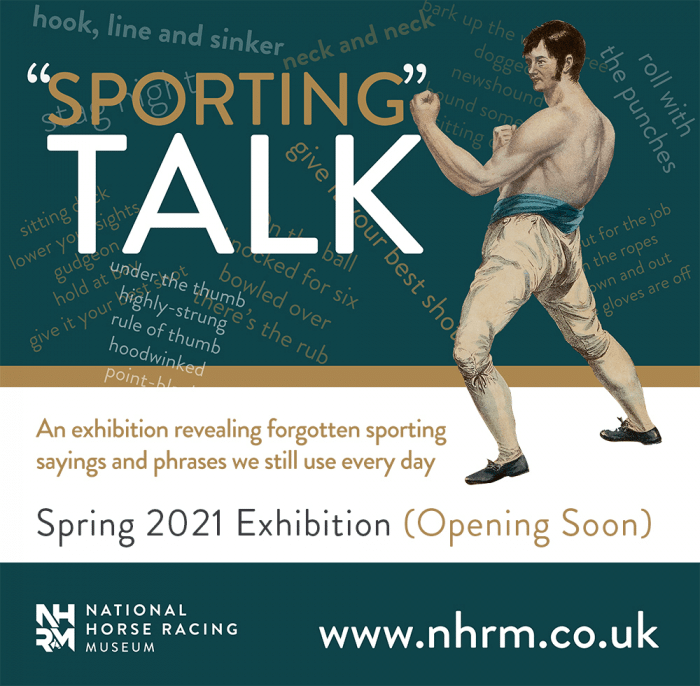 NHRM will update this page as soon as we have further advice from the Government about opening restrictions on arts-based facilities due to Covid-19. We are as sorry as you are 🙁  Check back soon, stay safe everyone!