Come and Join us at our Volunteering Open Morning
"No two days are the same."
"There's always something new to discover and great people to meet."
Volunteers are at the very heart of the work we do here at the National Horseracing Museum. We offer a range of volunteering opportunities and aim to match people to roles that take into account their skills and interests. But don't just take our word for it, here are some views from a selection of our wonderful volunteers:
"As a volunteer, you have a lot of options here, with roles outside, to meeting people in the gallery, to exploring genealogy and for me personally, lots of opportunities to see the work of my favourite artists." Brian, Visitor Host.
"Rewarding work, proving that there's life after racing for these wonderful horses. Seeing them change from racehorse to leisure horse." Lesley, Equine Volunteer.
"I love being a volunteer at the museum. You learn something new every visit; be it from the horses, the guests or the people you work alongside. It's great to be able to give something back to the community as well as working towards bright and positive future for ex racehorses!" Katie Clark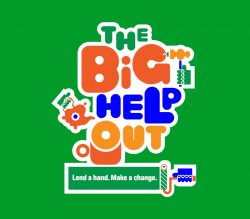 The Big Help Out
We are really looking forward to joining in with The Big Help Out initiative on Monday 8th May and celebrating the Coronation by holding an open morning event for prospective volunteers. Everyone is welcome on this very special national festival day of volunteering to commemorate the Coronation. Refreshments will be available and there's a chance to meet the Museum team from 10am in the Forbes Room in Palace House. We've also arranged for tours of the museum at 10:30am and 11:30am so you can go behind the scenes and find out exactly what goes on across the whole five-acre site.
You can find out about the full range of volunteering roles available, from front of house and exhibition invigilation to gardening and collections projects. Join our tea and taster sessions to see what's available for yourself and find out how you can make a difference in your local community.
There's no need to book – simply turn up on the day and head to the desk in the shop where you will receive instructions on where to go.
We look forward to welcoming you!