1981 was full of sporting heroes. In early April we had seen Bob Champion's heartwarming victory in the Grand National on Aldaniti and during July and August, Ian Botham's had single-handedly won the Ashes.  Sandwiched in between these two momentous sporting moments, Shergar, a bay with a white blaze and four white socks won the Derby ridden by the 19-year-old Walter Swinburn.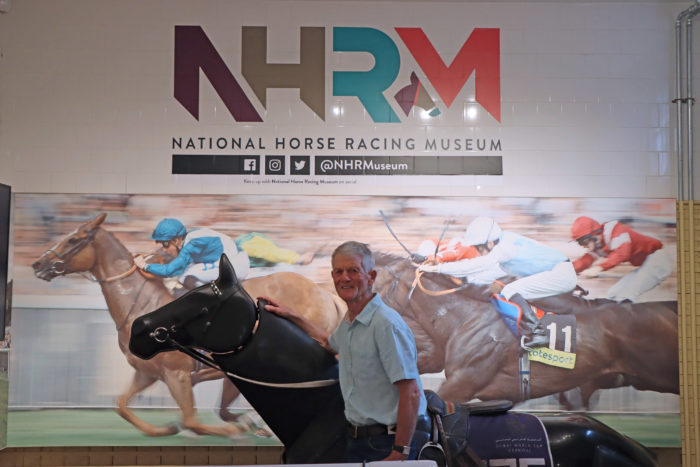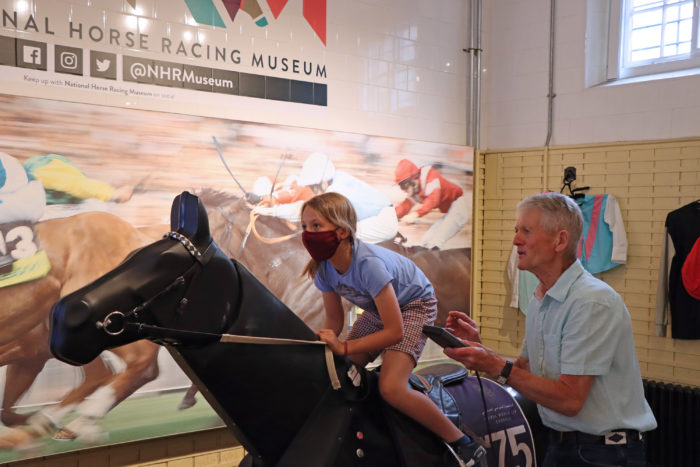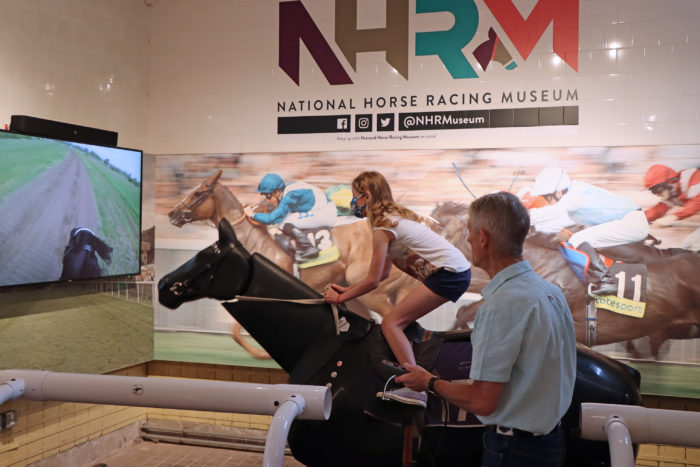 What many people won't know is who was the first person to sit on Shergar?  David Goodwin, whose career in racing had begun in his native Scotland at Ken Oliver's yard in 1966 had that honour after breaking in Shergar, the son of Great Nephew at Michael Stoute's Beech Hurst yard.  David had only joined Michael Stoute's the previous year.
David, who works every Friday in the practical gallery at the National Horseracing Museum, remembered Shergar, who was owned by HH Aga Khan, arriving in the autumn of 1979 after the yearling sales.  "He was part of the first group of horses owned by the Aga Khan to be trained in England for a little while.  He was just another horse when he arrived. He was a nice-looking horse, straightforward and there were no issues with him, but you can't tell at that stage what they might become.
"Michael Stoute had just moved up into the top echelon of trainers and had won the Oaks the year before. At the time five or six of us would break in all the yearlings and then once we got them going, we would pass them on to the other lads who would continue to ride them.  I rode him up until the summertime but once we knew he was going to be a bit above the average, the yard's lead work rider Cliff Lines took on Shergar" said Goodwin.
Shergar's first run as a two-year-old came when he won a one-mile Newbury maiden on 19 September.  In his only other run as a juvenile, the colt finished 2nd in the Group 1 Futurity Stakes at Doncaster again over a mile.
David had left Stoute's yard by the time of Derby day to work for Henry Cecil but recalls watching the race on Television. Shergar won the blue riband by a staggering 10 lengths, the largest winning margin in the race's history.  It is one of those races you will never forget watching.  The Aga Khan's colt took up the running shortly after rounding Tattenham corner and the young Swinburn can be seen easing the horse down at the finish.  The 10-length victory margin ahead of the Paul Mellon-owned Glint of Gold could have been more.  Peter Bromley on BBC radio had famously said as Shergar galloped clear "you need a telescope to see the rest."
Third, a further two lengths back were the 50/1 outsider Scintillating Air, who was trained by Bruce Hobbs at Palace House Stables.  Scintillating Air ridden by Geoff Baxter will likely forever remain the last horse trained at Palace House stables to be placed in the Derby.
"He won by a wide margin as he had in his two trials at Sandown and Chester.  He was very good but when horses win by a wide margin you have to ask about the quality of the opposition" said Goodwin".
The time was the slowest in the Derby since Airborne's triumph in 1946 but the ground was good to soft on the downs. Timeform did however give Shergar a rating of 140, the highest recorded for a Derby winner for the past 50 years.  His subsequent kidnap by the IRA in 1986 may have added to the luster of Shergar's story but there is no doubt on 3 June 1981 he was a superstar horse.
Dave's close association with the Derby continued when he moved to Henry Cecil's Warren Place yard at Newmarket where he rode and looked after Slip Anchor and Commander in Chief, winners in 1985 and 1993 respectively.
"People think you can spot a Derby winner six or twelve months before, but it rarely happens like that.  Derby winners are born with greatness and then it's up to trainers and jockeys to polish the uncut diamond" said Goodwin.
Dave recently came out of retirement to ride out a few horses for Chris Dwyer at Albert House stables in Newmarket.  "I am just a joyrider at the moment," said Goodwin though many experts at the home of racing would say the first person to ride Shergar is much more than that.
Stephen Wallis
Watch the 1981 Derby win by Shergar