Mrs Thornton was the first lady jockey to ride against men at a recognised race meeting. She took part in two races at York winning the second against Frank Buckle. At the time of that race in 1805 Buckle had already won eleven English Classic Races and would go onto win twenty-seven in total. Alicia's portrait by Thomas Rowlandson hangs in Palace House as part of an exhibition about Colonel Thornton, the sporting eccentric who spent lavishly on his consuming passions of hunting, hawking and shooting.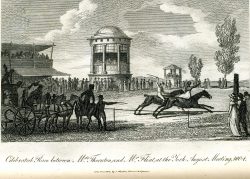 The Races
RACE 1: Saturday 25th August 1804.  York.  Match: Colonel Thornton's ch. h. Vinagarella (about 20 years old) ridden by Mrs. Thornton versus Mr. Flint's br. h. Brown Thornville (afterwards Black Strap), ridden by Mr. Flint for 500 gns, and 1,000 gns bye over four miles.
A crowd of 100,000 turned out to watch this race. The 6th Light Dragoons were required to assist in keeping the course clear. About 4 o'clock, Mrs. Thornton appeared, led by Col. Thornton and Mr. H. Boynton. Mr. Flint came out shortly afterwards. Mrs. Thornton rode her own weight against Mr. Flint's.  Mrs. Thornton rode side-saddle in 'a leopard coloured and buff body, with blue sleeves and cap' and a long sweeping skirt; Mr. Flint rode in white. Vinagarella took the lead for about three miles, when Brown Thornton took over, and won very easily.  Vinagarella fell lame about a mile from home and was pulled up.
At starting, Vinagarella was 5 and 6 to 4 on, in running, 2 to 1 on him.  The race was run in 9 minutes and 59 seconds.
Mrs. Thornton was described as the 'Chere Amie' of Colonel Thornton. Her real name was Alicia Meynell, the daughter of a respectable watchmaker in Norwich. She was then about 22 years old 'very handsome, fair complexion, light hair, blue eyes, and very fascinating'.  Captain William Flint was 'a sportsman of considerable celebrity, a bold rider to hounds, and a scientific angler'.
RACE 2: Saturday 24th August 1805.  York.  Match: Col. Thornton's br. m. Louisa (6 years old), ridden by Mrs. Thornton (9st 6lb) versus Mr. Bloomfield's ch. m. Allegro (6 years old), ridden by Frank Buckle (13st 6lb) for a Cup, value 700 gns over two miles.
The race began at about 3.30. At starting, Louisa took the lead and made the running for a considerable way. Allegro headed for few lengths, but Mrs. Thornton then challenged Buckle and, after a 'pretty contest', won her race in good style by half a neck. 'Her bold and excellent jockeyship elicited the admiration of the assembled thousands, who hailed her successful struggle with the most enthusiastic shouts of applause and congratulation'.
On the Thursday morning before the race, Mrs. Thornton was exercising her horse on the course and had a narrow escape from a serious accident.  At full speed and opposite the grandstand, Louisa bolted and before she could be straightened had become entangled under the railings. Mrs. Thornton was nearly thrown but retained her composure and extricated herself. The groom who rode against Mrs. Thornton was nearly thrown from his horse.
Mrs. Thornton
The details of the races were well reported at the time but little is known about Mrs. Thornton. She was known as Alicia Massingham or Meynell, Mrs. Thornton or Mrs. T. Although Orton in his account of the races says she was the daughter of a watchmaker in Norwich named Meynell, no record of a watchmaker of that name has been found.
It is most likely that Alicia Thornton was born in Yorkshire. In the account of the race the Sporting Magazine said that Colonel Thornton and Mr. Flint were drinking friends and that their ladies were sisters. And there is no evidence that Thornton married Alicia.
After the second race, Alicia Thornton disappeared from public view. Colonel Thornton did marry in 1806 and was described on the marriage register as a bachelor.
Alicia Thornton remains a mystery, but the Rowlandson portrait is an important record in the history of women in racing.