The Urban Frame: Mutiny in Colour – West Suffolk to host major contemporary art exhibition across three towns from June to October with several works by Banksy.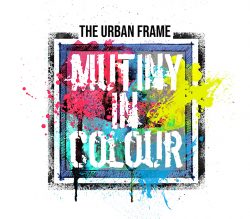 Following the huge success of the Moments exhibition at Moyse's Hall Museum in Bury St Edmunds in 2021, which attracted nearly 25,000 visitors, West Suffolk is set to host one of the country's biggest modern art exhibitions of 2023 featuring several artworks by controversial street artist, Banksy.
The Urban Frame: Mutiny in Colour will run simultaneously across three locations in West Suffolk during the summer, namely Moyse's Hall Museum, Bury St Edmunds; the National Horseracing Museum in Newmarket and Haverhill Arts Centre. It is being organised in association with Brandler Galleries.
The exhibition will host over 250 works from some of the world's most renowned contemporary artists as well as Bansky. These include Blek le Rat, Pure Evil, My Dog Sighs, Kaws, the Connor Brothers, Damien Hirst, Tracey Emin, Sherlock, Swoon, Ben Eine, Bambi, Hush and Lamont White, to name a few.
Running from 3rd June until 1st October 2023, the all-new display at Moyse's Hall will include 'Sandcastle Girl' by Banksy, which was painted on a wall in Lowestoft during his 'Spraycation' visit to East Anglia in 2021.
Open on the same dates, the Newmarket exhibition will feature Banksy's 'Hula Hoop Girl' and a Citroen Berlingo van painted for Coventry Museum by My Dog Sighs. This stunning and unique piece features two hundred eyes on the bodywork and a pair of hanging 'eye cans' as a homage to the furry dice of the time.
Haverhill Arts Centre's exhibition, running from 10th July – 12th September, will also include several original Banksy pieces and the critically acclaimed 'Argentina' artwork by Swoon, one of the first women street artists.
Urban Frame: Mutiny in Colour will be supported by a number of high-profile events and community projects taking place alongside the exhibition throughout the summer.

Councillor Jo Rayner, Cabinet Member for Leisure, Culture and Community Hubs said: "I am delighted that three venues in West Suffolk are joining forces up to work together for the benefit of the whole region. An amazing 42% of tickets sold for the Moments exhibition in 2021 were sold to visitors from outside of the West Suffolk geographic area, with visitors travelling from places as far and wide as New York and Scandinavia specifically to see the exhibition. This of course had a much-needed positive impact on local businesses, such as accommodation providers, cafés, bars and restaurants, just as we were coming out the pandemic. With this in mind for 2023, we have also deliberately kept tickets prices low, so that we can maximise footfall to West Suffolk again. I'm particularly pleased to confirm all children aged under 12, can see this exhibition free of charge."
Hon Frances Stanley DL, Chairman of Trustees at the National Horseracing Museum said: "We are thrilled to be working with Brandler Galleries, Moyse's Hall Museum in Bury St Edmunds and Haverhill Arts Centre to bring vibrant street art to three venues across Suffolk. We are particularly excited to be able to display works by contemporary artists such as Banksy, Hirst and Emin at the National Horseracing Museum (NHRM) in Newmarket for the first time and we look forward to welcoming a new crowd of visitors to enjoy this very special exhibition."
Haverhill Arts Centre's Creative Director, Dan Schumann said: "We are very excited to be hosting this extraordinary exhibition in Haverhill Arts Centre. Bringing the work of internationally renowned artists to Haverhill in such an accessible way is absolutely what our Arts Centre is here to do, and the positive impact on local businesses from the additional foot fall this exhibition promises to bring is the perfect antidote to the effects of the pandemic. The arts have a huge part to play in regenerating our town centres, improving the quality of life for our residents and uniting communities; and this exhibition is a wonderful example of how we can achieve these aims and bring great art to everyone at the same time. We look forward to welcoming everyone to Haverhill Arts Centre to enjoy The Urban Frame, Mutiny in Colour."
Entry prices reflect the cost-of-living crisis, and are set at just £7 per location for adults and £3 for children aged 12-18 years. Under 12s will be free. Tickets will be available online for all venues from Wednesday, 8th February at www.whatsonwestsuffolk.co.uk.
You can purchase tickets to the National Horseracing Museum's exhibition here from 8th February onwards.

About the National Horseracing Museum
The National Horseracing Museum is a 5-acre site in the heart of Newmarket. It comprises three complementary attractions; National Horseracing Museum in the Trainer's House and King's Yard Galleries, the Packard Galleries of British Sporting Art in Palace House, and a chance to meet former racehorses in the flagship home of Retraining of Racehorses.
Using the latest interactive and audio-visual displays you can find out about the history of horseracing, plus meet friendly retired racehorses. You'll also be able to discover what it feels like to ride a racehorse with our famous equine simulator, watch the sparks fly as a farrier works in the forge and enjoy some of the country's best examples of sporting art.
Why not make a day of it and have lunch in The Tack Room restaurant or enjoy a picnic from The Bakery whilst you're here?
For more information about what's on at the National Horseracing Museum, click here.