Blog by Stephen Wallis, The Paddock and The Pavilion and Friend of the National Horseracing Museum
Starting today the eyes of the racing world will be on Royal Ascot. A Coronation Year Royal Ascot with King Charles III expected to attend all five days of the prestigious meeting, while 2023 will be the last Royal meeting for Ascot's favourite jockey Frankie Dettori.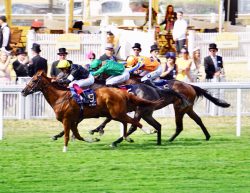 There would be no finer send off for Frankie than a win on Saga in the Royal colours on day one in the Wolverton Stakes. Hopefully, the late Queen who was so synonymous with the Royal meeting will be looking down on another Royal triumph.
But what makes the five days of the Royal Meeting which begins with the Group 1 Queen Anne Stakes, named after its founder, the most unique global sporting occasion.
To get a better idea I sought out the views of some trainers, jockeys, an owner, a racing historian, and several people closely associated with the National Horseracing Museum.
This is what they had to say.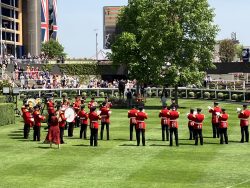 What makes Royal Ascot Special?
Frances Stanley – Executive Chair of the National Horseracing Museum Board of Trustees
Royal Ascot for me is the most wonderful combination of the theatre and majesty of horseflesh racing next to you and at the same time all your favourite people from the world of horseracing and beyond descending on a small patch of England in beautiful clothes.
It is almost too good to be true, a huge box of sweets that have to be slowly unwrapped during the week and on Saturday you want to start all over again.
Tired but happy feet.
Excitement and happiness.
The Royal Procession with The King and Queen in carriages.
It's the best week of the year…a walking office for our industry.
Peter Jensen – Former Chairman of Sandown Park racecourse, former Chairman of The Home of Horseracing Trust, former Chairman of British Sporting Art Trust, and a former Trustee of the National Horseracing Museum.
Royal Ascot is a fixed point of time in the year when the best horses can be seen, the weather is usually good, and the sense of occasion creates a fantastic party. I hardly ever miss a single day of the Royal Meeting and long may this continue.
Tim Cox – Former Trustee of the National Horse Racing Museum and owner of the Cox Library. 
Quality of racing, pure and simple, with the added spice of international competition nowadays.
Frank Conlon – Practical gallery staff at the National Horseracing Museum
It's special because the people and horses come from all over the world. You have the best horses, jockeys, races and prize money and the course is absolute immaculate.
Newmarket Trainers
John Berry
What makes Ascot so special is the mixture of top-class racing and heritage.  So much of racing has lost its much of its tradition, but Ascot retains plenty of its historical character, notwithstanding that much of what made it special was lost when the course was re-designed in 2005.
Harry Eustace
I suppose it's a bit like Cheltenham, I feel it's the most competitive and because it's the most competitive it's the hardest place to win at, they mean the most.  It's very international which brings another flavour to it.
Its everything that comes with Ascot as well. It a beautiful racecourse. It's the most recognised outside of racing and so It's the biggest stage to win on from a trainer's point of view as a festival and so getting a winner there, more than anywhere else, was big.
Harry tasted success with his first ever runner at the Royal meeting in 2022 with Latin Lover ridden by Hayley Turner.
Jockeys
Our views from the saddle came from the present day, Group 1 winning jockey Rab Havlin and John Gorton, 77, the 1969 Oaks winning jockey.
John now living in Borneo has a close association with Palace House stables, the home of the National Horseracing Museum as he rode for trainer Bruce Hobbs, the last trainer at the Palace House yard, in the 1970s.
Rab Havlin
Royal Ascot is the flat racing world's Olympics.  Its special because you get to see the best take on the best, the atmosphere is not like any other meeting on the flat calendar.
John Gorton
Royal Ascot is special because the best horses come to compete on a magnificent racecourse.
Anne Elliott
It's aspirational. the Olympics of our Flat Season the equivalent of NH Cheltenham. And there's always a story of David v Goliath!!
Anne is the part owner of Group 2 winning sprinter Azure Blue.
Chris Pitt
It speaks for itself. No other meeting combines such pageantry with top-class racing.
Author, and racing historian
What was your favourite racing memory of Royal Ascot?
Tim Cox
Choisir winning the 2003 King's Stand Stakes at 25/1 and then following up in the Golden Jubilee Stakes on Saturday in record time.  I had seen Choisir 'win' the L'Oreal Paris Plate (Group 3) at Flemington on Melbourne Cup Day, but he was demoted after protests and placed third.  He then went onto win a Group 1 at Flemington.  For once my winning bet was based on what I had seen rather than what I had heard.  This was the first Australian win at Royal Ascot.
Peter Jensen
My personal best memory of Royal Ascot does not involve a racehorse, although I have many exciting memories from races. My best memory involves horses and carriages. In 2014 my wife, Sue, and I had the honour to be invited by the late Queen to lunch at Windsor Castle and then for racing in the Royal Box. To our great excitement, we learned on the day that we would be transported to the racing in one of the royal carriages. It was the Friday of the meeting that year and we shared the fourth carriage with our great friends Chris and Annie Richardson, from Cheveley Park Stud. This really was a day to remember and one of the great occasions in our lives.
Frank Conlon
I used to look after a big grey horse trained by Henry Cecil and ridden by Lester Piggott called General Ironside who easily won the Queens Vase in 1976.  It was great as I used to love the horse.  I broke him in and used to ride him every day.
John Berry
I've been lucky enough to have seen some pretty special performances at Royal Ascot, including Ardross winning the Gold Cup, Chief Singer winning the Coventry Stakes and Dubai Millennium winning the Prince of Wales's Stakes, but Black Caviar's Diamond Jubilee would be my top memory.  The build-up and Black Caviar's reputation meant that it always was going to be a special occasion, but nobody could have predicted just what a nail-biter it would turn out to be.
Rab Havlin
My first Royal Ascot winner on Ardad in the 2016 Windsor Castle Stakes.
John Gorton
I rode the Sleeping Partner to win the 1969 Ribblesdale Stakes.
Sleeping Partner was a very difficult ride, who would always rear up in the stalls and I was aware of this.  This was my major concern in the race!
I went to the starter Mr Marsh, and he said, "Yes Gorton what do you want?"  I said please sir, Sleeping Partner is very difficult in the stalls.  I would be grateful if when she rears up and comes down, would you be so kind to then open the gates?  Marsh said, "I will do my best Gorton".  She reared up, came down, the gates opened beautifully.  She won by six lengths.
Anne Elliott
So many but what immediately comes to mind is the late Queen's obvious delight and pleasure evident for all to see when Estimate won the Gold Cup in 2013… such an emotional reaction… she was just like any other owner at that moment, and it shone through, and all racing was delighted for her.
Chris Pitt
I suppose mine would be Frankel's 11-length romp in the 2012 Queen Anne Stakes.
 I would like to thank everyone for letting me know their own memories all of which combine to make Royal Ascot Special. No doubt there will be many more special memories in 2023.  A Royal winner, dare we hope with Frankie in the saddle on Day 1?