Visit our new display – 'Wondrous Women Jockeys' – to find out more about female jockeys in the sport.
For example, did you know that the first female jockey was granted the right to race as recently as 1972? 
Women were first granted the right to race in 1972 when The Jockey Club introduced a 12 race series for female amateur flat jockeys. 'Wondrous Women Jockeys' celebrates female jockeys through an exploration of their history within racing.
The display showcases examples of women and their achievements; from Meriel Tufnell, the first female winner of a race under Jockey Club rules, to Rachael Blackmore, the first woman to win the Grand National.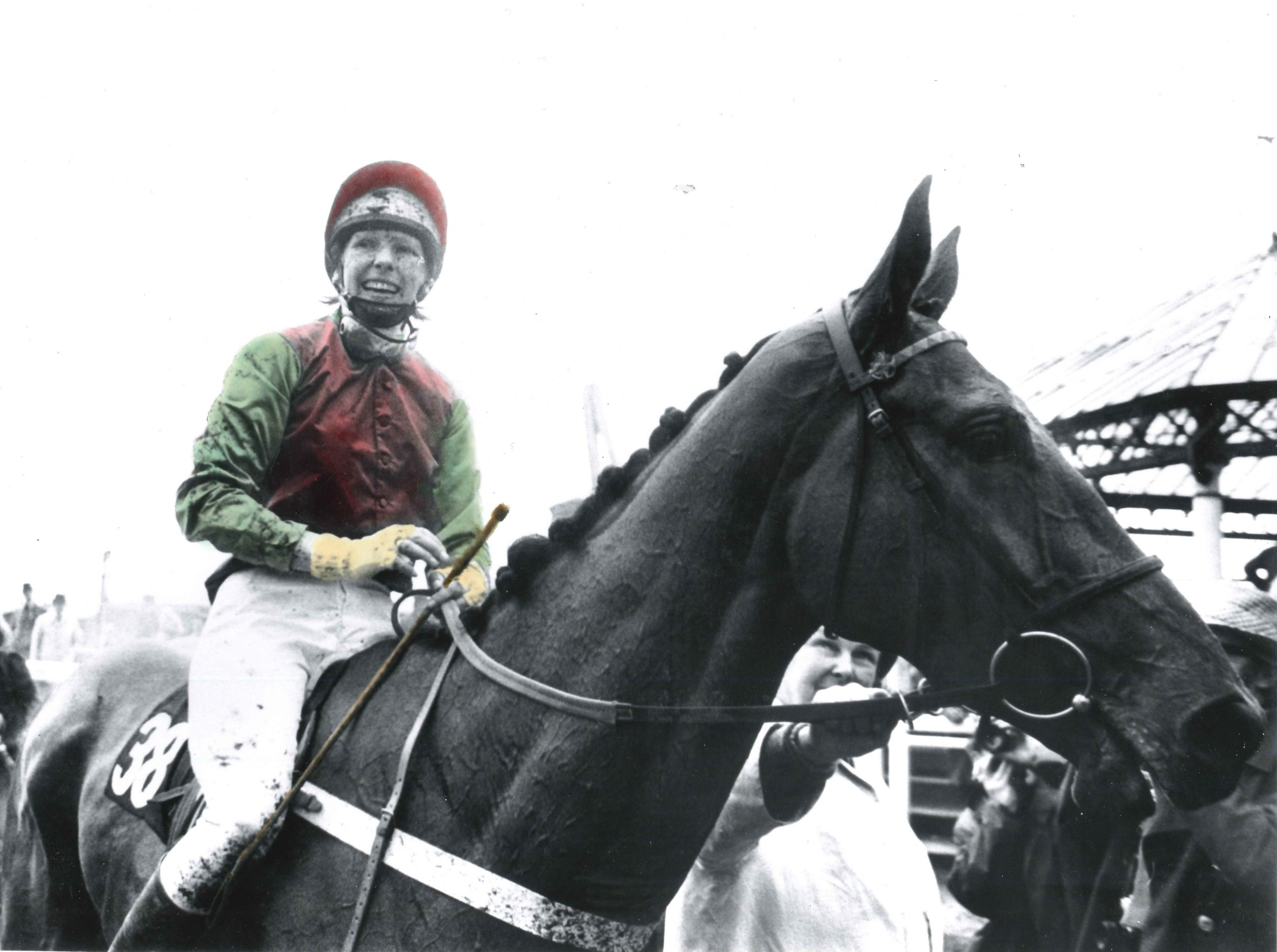 Meriel Tufnell on Scorched Earth after winning the Goya Stakes at Kempton, 1972
This new display also shows women who took a stand; from Alicia Thornton, the first female to compete against male jockeys to Ashleigh Wicheard, the first woman to lead her fellow female jockeys in taking the knee against racism before the Magnolia Cup. Their achievements are part of the history of women in racing and wider female success in sport.
The painting below – 'Mrs Thornton in the Dress She Rode in at York' by Thomas Rowlandson – shows Alicia Thornton in her racing outfit of yellow silks, hat and whip. She first raced – side-saddle in a long sweeping skirt – on Vinagarella at York in August 1804. Huge crowds came and the British Army were called in to assist in keeping the course clear. Mrs Thornton lost that race when Vinagarella pulled up lame, having led for most of the race, but a year later, also at York, she rode Louisa and won by half a neck. Little is known about Mrs Thornton and after the second race she disappeared from public view having won the crowds over with her determination and spirited performances. A true pioneer.
Intrigued? Come and see the display in the Sporting Glory Gallery.
For more information about what's on at the National Horseracing Museum, visit our website www.nhrm.co.uk.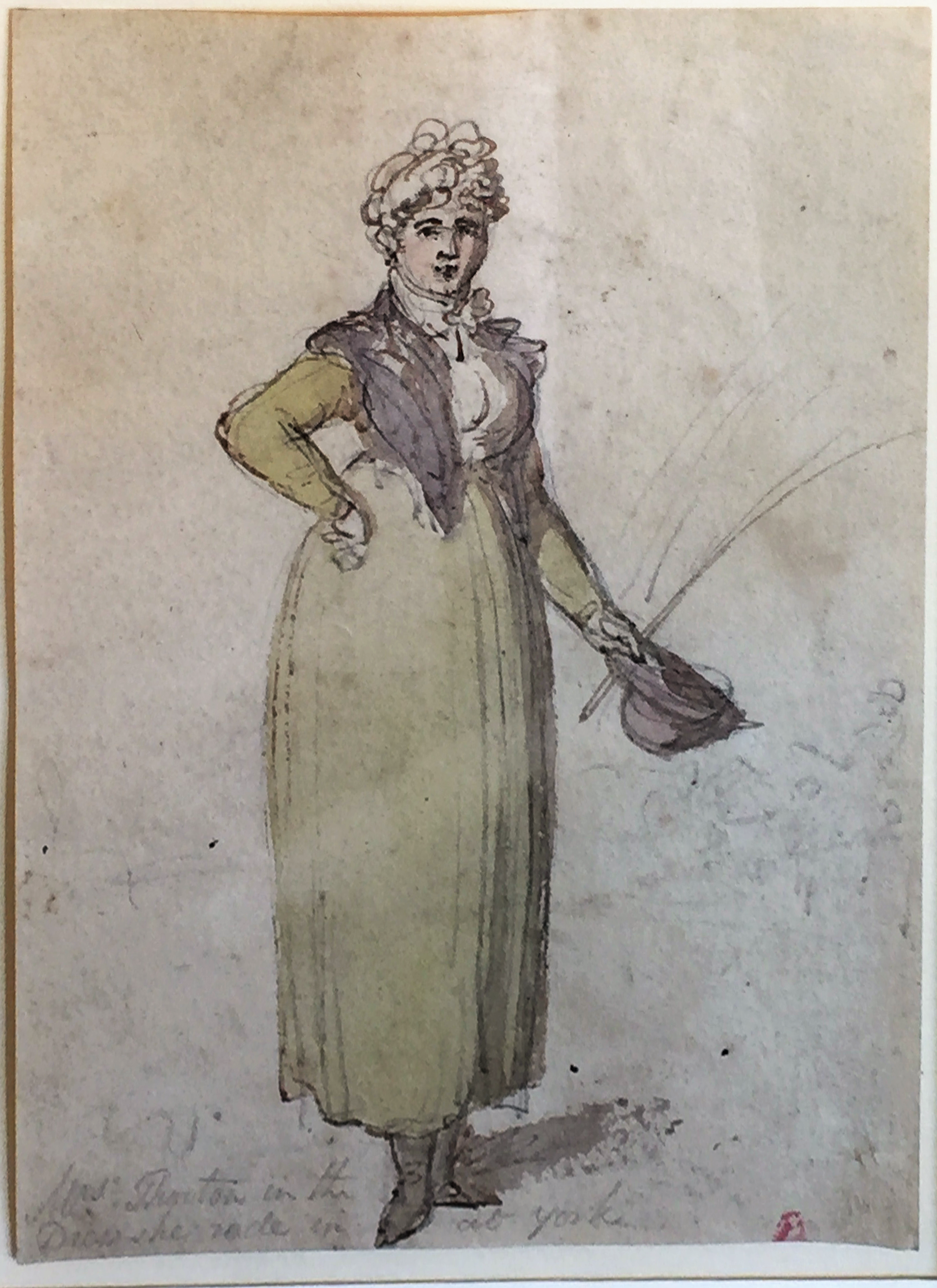 About the National Horseracing Museum
The National Horseracing Museum is a 5-acre site in the heart of Newmarket. It comprises three complementary attractions; National Horseracing Museum in the Trainer's House and King's Yard Galleries, the Packard Galleries of British Sporting Art in Palace House, and a chance to meet former racehorses in the flagship home of Retraining of Racehorses.
Using the latest interactive and audio-visual displays you can find out about the history of horseracing, plus meet friendly retired racehorses. You'll also be able to discover what it feels like to ride a racehorse with our famous equine simulator, watch the sparks fly as a farrier works in the forge and enjoy some of the country's best examples of sporting art.
Why not make a day of it and have lunch in The Tack Room restaurant or enjoy a picnic from The Bakery whilst you're here?
About our 'Wondrous Women Jockeys' display
This exhibition was curated by Rachel Whatley, our former Coral Pritchard-Gordon Graduate Trainee at the National Horseracing Museum. Rachel worked with us for one year under this scheme, providing a valuable contribution to our collections and curatorial teams. This placement was also a fantastic opportunity for Rachel to build on her Museum Studies Masters Degree gained from the University of Leicester, and to develop her skills in a museum environment.
Her final project was this one – a subject personally selected by Rachel in order to shine a light on the little-known hurdles (pun intended) that women jockeys faced as they tried to get more involved in the sport. Rachel is pictured below opening the Wondrous Women's Jockey display.