Seven poignant artworks created by British street artist Banksy in war-torn Ukraine have been unveiled for the first time at the National Horseracing Museum in Newmarket.
The 7: Banksy Under Siege is a collection of life-size photos of the original artworks, five of which are now believed to have been destroyed in bombings.
The replica life-size "walls" form a spectacular art installation, which is accompanied by an audio narrative. As each piece is explored, visitors gain an insight into the messages and symbolism that Banksy has masterfully woven into his work. There is also the opportunity to make a donation to the Ukraine charity Razom, which funds urgent medical care and provides vital equipment and supplies.
The 7: Banksy Under Siege is on show alongside The Urban Frame: Mutiny in Colour, a major exhibition of contemporary art which opened on 3 June, featuring works by Banksy, Damien Hirst, Tracey Emin, Blek Le Rat, The Connor Brothers and many others.
Tickets to see the Mutiny In Colour exhibition, which runs until 1 October, are available to book here, priced £7 Adults, £3 children (12 to 18 yrs) with under 12's going free. The exhibition is also being held across two other locations in West Suffolk, including Moyse's Hall Museum in Bury St Edmunds and, from 16 July to 16 September, Haverhill Arts Centre.
The exhibitions have been arranged courtesy of John Brandler of Brentwood-based Brandler Galleries and Fitzhugh Holdings.
Artworks on display in The 7: Banksy Under Siege include: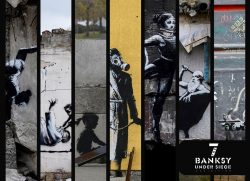 Gasmask – a woman in a dressing gown and curlers wearing a gas mark while wielding a fire extinguisher showing the stark contrast between everyday life and the harsh reality of conflict.
 Injured Gymnast – a gymnast wearing a neck brace performing despite her injury symbolising the resilience of the human spirit to overcome obstacles.
Judo – a young boy defeating a grown man in judo using a martial art to symbolise the struggle between unequal forces, i.e., the David and goliath dynamic between Ukraine and Russia.
Missile Launcher – Existing graffiti in Kyiv transformed into a missile on a military launch vehicle making a powerful statement about the destructive nature of war.
Seesaw – Two children playing using a metal tank trap as a seesaw transforming an instrument of war into a symbol of joy and innocence.
 The Bathtub – a man bathing in a tub amidst the ruins of war representing the persistence of basic human needs and the desire for normalcy in chaos.
 Young Gymnast – A young female gymnast performing a handstand amidst the rubble demonstrating determination in the face of adversity.