Meet The New Resident Artists at NRHM
Who are you?!
We are Nikki Goldup and Keith Hopewell. We are based in Bury St Edmunds, with Keith originally hailing from York and Nikki from Cambridge.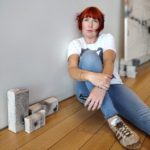 Nikki: I've been visiting Newmarket from a very young age, having ridden and competed on horses for most of my life. After completing my Textile Design degree in Belfast I moved back home to the family farm in Cambridge, working in the education and design sectors, teaching in schools and exhibiting my work internationally. Later on, as a post grad student, I studied at Cambridge University, gaining an MPhil in Arts and Culture in Education which really got me interested in working with community groups. After having my children, I decided to work freelance, mixing my marketing, design and social media skills with community art projects and my own exhibition work. I like to combine a mixture of paint, photography and textiles, making work that reflects my local environment and the people within it. You can often find me taking photos while riding my horses out in the Suffolk countryside!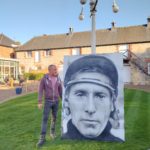 Keith: I've been spray painting for the past 35 years! Under the name Part2ism I've worked across the globe – my photorealist works have challenged the conceptions of what graffiti is or could be. Alongside this work I've nurtured a successful recording career, producing music with the likes of New Flesh, Ty & Roots Manuva… I'm also in the process of launching a new record label, Open SRC Music, and will be producing a sound piece alongside the paintings for this residency. I studied for my BA and MA as a mature student at Winchester School of Art where I went on to refine and theorise my work, developing more abstract pieces that explore the nature of spray paint as a mechanism for painting. I'm proud to say that my work has been shown internationally, is held in many private collections and has been commissioned for several well-known corporations as public or commercial art.
How did you get involved with #WeAreNewmarket?
We spotted an open call to apply at the last minute and we thought it sounded like the perfect project for us. We've often visited the museum, attending events and visiting the museum itself with the children. We were lucky enough to get an interview and share our ideas with the team!
How would you like the community to benefit from the project?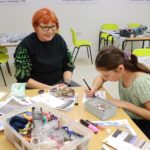 As artists we are very lucky to share our views and new ideas with others. Making art has been our way of expressing ourselves, meeting many people and has provided us with opportunities to travel round the world. The social element of art making can be a positive and rewarding experience and we hope that people will discover this during our workshops and drop-in sessions. A lot of people get put off when it comes to making art as they feel they can't draw, we want to help de-mystify that and show new ways of expressing ideas that don't necessarily involve putting pencil to paper. Above all, the project's objective is to be fun and showcase the work of all residents, of all ages and art abilities. That's why we came up with the title #wearenewmarket
What are the long-term plans for the project?
Keith: I'm currently working on large scale paintings that will be showcased later this year on Newmarket High Street. The paintings will be photographed and placed on empty shop windows – it's another element to the project that we hope will add colour and interest to the town and get people looking at art in a new way.
Both: Alongside this we are offering drop-in sessions for the local community to come in and make their own art pieces to be included in a huge new artwork that will be displayed in the museum. We would really like to capture what its like to live in Newmarket in 2021 and the daily lives of the people who live or work in the town.  The completed work will be revealed to the public in 2022, with a new sound piece to accompany it.
www.keithhopewell.co.uk
www.blackandwhitecreative.co.uk